Breakfast is on your own, though we do encourage you to find a crew on Friday and partake of the local fare (check back for a additional options). Be sure to come back in time for your track.
Pick a Track
The buses will be leaving at 9:00AM for Acoma and 9:30AM for Tram Job.  Departure is from the hotel lobby. Lunch is included with each track, but if you get hungry easily you may want to bring a snack. Make a new friend by bringing one to share.  Note: the Jayne's Leather Track will take place in the hotel, so no bus is required.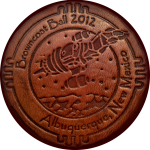 Jayne's Leather Track – International award-winning leather artisan, Mary Girven, owner of BrowncoatFashions.com, will teach you how to make your very own Shiny Jayne Wristband from start to finish, including leather cutting, stamping, hole punching, edge finishing, staining, burnishing, riveting, and hand sewing (with a sewing awl).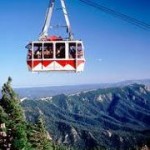 The Tram Job Track – A trip on the Sandia Peak Aerial Tramway transports you above deep canyons and breathtaking terrain a distance of 2.7 miles. See some of nature's most dramatic beauty unfold before you. Your vantage point from the observation deck atop 10,378 foot Sandia Peak in the Cibola National Forest affords an 11,000 square-mile panoramic view of the Rio Grande Valley and the Land of Enchantment.  Lunch will be included (you buy yer own drinks), at the restaurant on the raggedy edge of the Sandia Mountains (High Finance Restaurant and Tavern)!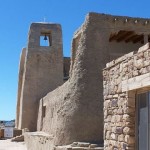 Battle of Acoma Valley Track – A trip to Acoma Pueblo  – known as the "Sky City" – transports you 60 minutes West of Albuquerque, and back in time to visit the oldest inhabited community in the United States. The adobe houses, plazas, and walkways on the 367-foot tall mesa have been used for nearly one thousand years!  The westward journey from Albuququerque rewards the traveler with spectacular vistas, mountain ranges, volcanos, mesas, and amazing geological rock formations.
On-site Fun
The Gallery of 'Verse Collectables and Creations will be open during the day, you may be able to stop in for a while before the buses depart for the off-site activities and we expect it to be open during the break before dinner. It will also be open for a time for anyone who chooses not to take advantage of any of the above tracks. Do check the on-site schedule when you arrive should you want to linger as you admire the goodies.
Tours will be returning at 5:00pm, plenty of time to get ready for dinner and dancing. Late afternoon is time for Primp and Prep, or Cigars and Brandy. Ladies, if you need help with your hair or costume, come on up to "The Primping Room", adjacent to the Hospitality Suite! It will open at 5:30pm and close at 6:45pm. Gentlemen (and Scoundrels) are encouraged to gather in the Lobby Lounge, the hotel bar, at 6:00pm.
We will have a professional photographer in the lounge and the lobby area outside the ballroom, so you can prove to the rebels back home that you can dress up nice. Dancing lessons are possible, indeed probable.
The hospitality suite will close at 6:30pm, so the organizers have time to get ready for the Ball and enjoy some of the pre-dinner socializing.
Have a Ball
Saturday evening is the Browncoat Ball with dinner, live music, and dancing. Cocktails at 6:30pm and dinner at 7:30pm. Best dressed contest. Door raffles. Special announcements. Random fun and ice-breakers.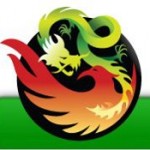 For your entertainment and amazement, The History of Chinese Martial Arts – a Demonstration to Music, will take place during the ball. Sifu David Brown and the Four Winds Martial Arts Academy will present a short lecture followed by a stunning Firefly-themed visual demonstration of the history of Chinese martial arts to an inspirational musical score.
For those of you on a budget or tight schedule, we will have a Ball only option available, which includes dinner and dancing.  The Browncoat Ball is by design a small, cozy event with a maximum of about 250 guests.  So to ensure your participation, we encourage you to buy a full weekend package, because those will have priority over any single day or single event options.  Of course we hope to have everyone come for the whole weekend, however, subject to availability, there will be a Saturday Only option and a Ball Only option available in August. Check the ticketing page.