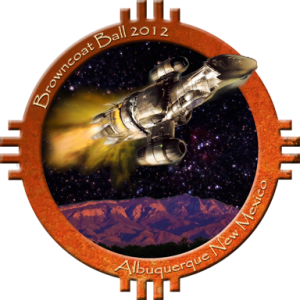 What is the Browncoat Ball?  The Browncoat Ball is a weekend-long gathering for fans of Firefly and Serenity, featuring a banquet dinner and fancy dress ball on Saturday night inspired by the ball in the episode "Shindig." We don't have featured guests like a science fiction convention does – it's just us fans! Which is not to say famous folks aren't invited.
Browncoat Ball 2012 – Welcome Firefly fans from throughout the 'Verse!  Last year, the Browncoat Ball (BCB) Steering Committee has selected the Albuquerque Browncoats to host the 2012 Browncoat Ball in Albuquerque, New Mexico (yes, New Mexico is a State in the US, located South of Colorado and right between Texas and Arizona), and we hope to provide you with a mighty fine shindig!
More info on this later, but we plan to have several levels of participation available. Of course we hope to have everyone come for the whole weekend event (Friday afternoon fun, Friday evening meet and greet party, Saturday activity tracks at various locations, the formal Ball itself – dancing and dinner – Saturday night, and the farewell get-together Sunday morning). However, subject to availability, there will be a Ball Only option, Saturday Only option, and possibly other ways to participate in separate activities. And there will be a payment plan!
Browncoat Ball History – In 2004, the Inaugural Browncoat Ball (BCB) was held in Chicago with great success. The Chicagoland Browncoats aimed to bring fans from around the world together to celebrate Joss Whedon's 2002 TV series Firefly, and to meet other fine folks who love the Firefly 'Verse. The vision for the Browncoat Ball was that it would be an affordable fan-run event to be held in a different city each year to maximize convenience and attendance.
Since then, except for 2005 when the premier of the movie Serenity had folks otherwise preoccupied, an annual Browncoat Ball has been held – by the San Francisco Browncoats in San Francisco, California (2006), by the Pennsylvania Browncoats in Philadelphia, Pennsylvania (2007), by the Austin Browncoats in Austin, Texas (2008), by the PDX Browncoats in Portland, Oregon (2009), by the Charlotte Browncoats (with the assistance of the Greenville Browncoats) in Charlotte, North Carolina (2010), and by the New England Browncoats in Warwick, Rhode Island (2011).