We've worked out a fantastic deal on hotel rooms through the Phoenix Airport Plaza Hotel of only $89 per night. The details are below, but to get that special price, just call and tell them you're attending the Browncoat Ball with the Arizona Browncoats. You're welcome to stay more days than just the weekend of the ball, just let the hotel know when you reserve your room.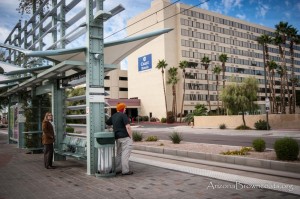 4300 East Washington St.
Phoenix, AZ 85034
Reservations: 855-586-8475
Hotel reservations need to be made by September 20th, 2013.
The Phoenix Airport Plaza Hotel is the closest hotel to the Phoenix Sky Harbor International Airport (PHX), and it has 24-hour airport shuttle transportation. You can also take advantage of the METRO Light Rail system, connecting you directly to downtown Phoenix, the Phoenix Convention Center, downtown Tempe, Mill Ave with its shopping and dining, and Arizona State University. The Phoenix Airport Plaza Hotel gives you seamless access to the city. Make yourself at home in the 100% smoke free atmosphere as you enjoy their Sleep Advantage program featuring plush comfortable bedding, complimentary Ruckus wireless Internet, the Cafe Sha restaurant and lounge, and the Cafe Sha Express featuring Starbucks coffee. They have a 24 hour fitness room, and meeting space that can accommodate up to 1,000 guests. The Phoenix Airport Plaza Hotel is also the perfect location for those looking to relax, with a heated outdoor pool and whirlpool. Chase Field, US Airways Center, and Sun Devil Stadium are all just 10 minutes away via the Light Rail. Many of the stadiums are within a 10-minute drive. Be prepared to be pampered at the Phoenix Airport Plaza Hotel.

The Room Rates
$89 a night for single and double occupancy – an extra $10/day for each extra guest that is over 12 years old
The price also includes a free full breakfast buffet as long as you register with our event on the link above, or be sure to mention the Browncoat Ball if you register at the phone number that we listed on this page. If you would like to have a microwave and a refrigerator in your room, ask for a room on floors 7 through 9. Individuals pay for their room, tax, fees, and incidental charges.

Parking
The hotel now has a free valet parking garage for our attendees — just make sure to mention that you're with the Browncoat Ball to get it comped. 

Guest Rooms Check In/Out
The guest check-in time is 3:00 PM. We hope to have the Hospitality Room ready by that time. Check-out time is 12:00 PM (noon).

Reservation Deadline
Friday, September 20, 2013
After this date, the hotel will accept reservations at the group discounted rate ONLY if the hotel's occupancy levels are below 90%.

Transportation To/From the Hotel and Airport
The hotel provides a free shuttle service to and from the hotel.
Shipping and Receiving
If it is necessary, you can ship material to the Hotel prior to the event. Please mark clearly and label as follows:
Phoenix Airport Plaza Hotel
4300 East Washington St.
Phoenix, AZ 85034
Hold For: Name of Guest, Name of Conference, Dates of Conference
Authorized packages or shipments will be accepted (2) days prior to the function date. Receiving, handling and shipping charges may apply. No COD packages will be accepted. The hotel policies on safe package handling are based on advice from the United States Postal Service (USPS) and the federal Centers for Disease Control and Prevention (CDC). The Client is responsible for the arrangements and all expenses involved with the shipping of materials, merchandise, exhibits, and any other items the Client arranges to move to and/or from the Hotel. The Hotel must be notified in advance of shipping arrangements to ensure proper acceptance of these items upon arrival at the Hotel. The Hotel is not responsible for lost or stolen items.

View Larger Map