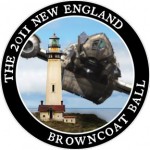 The New England Browncoats are very excited to host the Browncoat Ball weekend in Warwick, Rhode Island, October 21-23.
Home of the first Browncoat rebellion against an overbearing Alliance, New England abounds with great history, art, culture, food and entertainment. The New England Browncoats have been active for seven years hosting regular shindigs, CSTS screenings, and more. We have a full weekend in store, which should be a wicked good time, as we say up here.
Events start on Friday with our welcome reception and early Halloween party (dressing up encouraged). Saturday you can select from three tracks (Reaver, Companion and Shindig), check out our exclusive Prop Museum, and then proceed to the Ball in the evening. Sunday will include pistols at dawn. That's right, we're having duels. That, or a game of Browncoats vs Reavers.
Get your Browncoat Ball tickets, pre-order your limited-edition T-shirt, and be sure to book your hotel room as well. We've secured a special rate for the weekend.
Be sure to join our social networks on Twitter and Facebook to be kept in the loop for news and updates. Read our blog and join the discussion on the Forum.
We look forward to meeting all of you soon. Buy your ticket today!